BANTEAY CHHMAR TOUR ITINERARY
TRIP PICKS UP FROM PHNOM PENH
=======================
DAY-1: PHNOM PENH – BANTEAY CHHMAR
MORNING
Pick up from the hotel at 8:00am , at lobby in PHNOM PENH
8:00am – 6:00pm (10h): Drive from PHNOM PENH to BANTEAY CHHMAR IN BANTEAY MEANCHEY in 480km on the national street N:6 and N:56 (Included the lunch time on the way).

Drop you at your home stay and let you walk around the village to see the local people and local houses and looking for your dinner too.
DAY-2: BANTEAY CHHMAR TOUR 
MORNING 
Pick up from your home stay at 8:00am 
8:00am – 8:10am (10mn): Drive from HOME STAY to BANTEAY CHHMAR in 3 or 4km.
8:10am – 12:00pm (3h and 50mn): VISIT: BANTEAY CHHMAR 
PHOTO GARLLERY OF BANTEAY CHHMAR 
AFTERNOON
12:00pm – 1:00pm (1h) : Break for LUNCH
1:00pm – 2:00pm (1h) : TA PROM – TA EM & TA NEM
2:00pm – 3:00pm (1h): Drive to

KRONG SEREI SAOPHOAN

(SVAY SISOPHON) IN BANTEAY MEANCHEY in 60km on nation street N:52.
3:00pm – 5:30pm (2h and 30mn): VISIT: SEREI

SAOPHOAN

(SVAY SISOPHON) ATTRACTIONS: AROUND CITY – SUON SNER (LOVER PARK) – PHNOM BAK MOUNTIAN and enjoy the SUNSET

BACK TO HOTEL

stay for one night.  
PHOTO GARLLERY OF SVAY SISOPHON CITY
DAY-3: BANTEAY MEANCHEY – BACK TO PHNOM PENH
MORNING 
Pick up from the hotel at 8:00am , at lobby in SVAY SISOPHON CITY OF BANTEAY MEANCHEY
8:00am – 5:00pm (9h) : Drive from SVAY SISOPHON CITY to PHNOM PENH in 420km on the national street N:6.
DROP YOU AT HOTEL END!
PHOTO GARLLERY OF SUON SNER 
===============================
NOTED:
WE ARE FLEXIBLE, WE DON'T LIMIT THE TIME FOR YOUR TRIP, WE ONLY SET ESTIMATED TIME BY FLOLLOWING OUR EXPERIANCE!
CHECK NEXT PAGES FOR ATTRACTIONS AND PRICE ON THE TITLE ABOVE
===========>>
BANTEAY CHHMAR TOUR FROM PHNOM PENH
3DAYS-TOUR
Price for Transportation by private Ac car and Mini Van 
LUXUS

STAREX

SANYONG

 Car Suv 5 Seats

Van 12 Seats

Van 15 Seats

OPTION 1-DAY-TOUR

$350USD

1-4

Persons

OPTION 1-DAY-TOUR

$420USD

1-8

Persons

OPTION 1-DAY-TOUR

$420USD

1-12

Persons
INCLUSION
Driver food and accommodation

Gasoline

Parking fees/ tolls 

Cool waters and towels
EXCLUSION
All entrance fees pay by your own account

Your meals and hotel pay by your own account

English speaking tour guide (if you need professional English tour guide please inform to us we will arrange with driver for you)
BANTEAY MEANCHEY ATTRACTIONS
Banteay Meanchey (Khmer: បន្ទាយមានជ័យ is a province of Cambodia located in the far northwest. It borders the provinces of Oddar Meanchey and Siem Reap to the east, Battambang to the south, and shares an international border with Thailand to the west. Its capital and largest city is Serei Saophoan. Banteay Meanchey is the 13th largest province in Cambodia. With a population of 678,033, it ranks as the tenth most populous in the nation. The town of Poipet in the western part of the province is an international border crossing into Thailand. Banteay Meanchey is one of the nine provinces that are part of the Tonlé Sap Biosphere Reserve.
BANTEAY CHHMAR 
Banteay Chhmar:  is in Thma Puok District in Banteay Meanchey province in northwest Cambodia. It is located 63 km north of Sisophon and about 20 km east of the Thai border. The commune of Banteay Chhmar contains 14 villages. The massive temple of
Banteay Chhmar, along with its satellite shrines and reservoir (baray), comprises one of the most important and least understood archaeological complexes from Cambodia's Angkor period.Like Angkor Thom, the temple of Banteay Chhmar was accomplished during the reign of Jayavarman VII in the late 12th or early 13th century. One of the temple's shrines once held an image of Srindrakumararajaputra (the crown prince), a son of Jayavarman VII who died before him. The temple doors record Yasovarman I's failed invasion of Champa.
The long Old Khmer inscription found at the site (K.227), and now on display in the National Museum, Phnom Penh, relates
how Prince Srindrakumara was protected on two occasions by four companions in arms, once against Rahu, and once on a military campaign against Champa. Their four statues, with one of the prince, was placed in the central chapel. Another bas-relief states Yasovarman II was attacked by Rahu, but "saved by a young prince. The complex resembles Angkor Thom and other structures attributed to Jayavarman VII. It is one of two sites outside Angkor with the enigmatic face-towers. Besides that, its outer gallery is carved with bas-reliefs depicting military engagements and daily life scenes very similar to the well-known ones in Bayon. The complex is oriented to the east, where there's a dried baray (about 1.6 by 0.8 km), which had a temple on an artificial island (mebon) in its centre. There are three enclosures, as typical.
The external one, largely ruined, was 1.9 by 1.7 km and surrounded by a moat. The middle enclosure, provided with a moat too, is 850 by 800 m. It contains the main temple, surrounded by a gallery with reliefs 250 by 200 m which constitutes the third inner enclosure. Besides the main temple and the mebon there are other eight secondary temples. Four stelae detailing Jayavarman VII's genealogy were placed (though they remain unfinished) at each of the four corners of the third enclosure wall, mirroring the stelae that occupied the four corner-shrines (Prasat Chrung) of the king's capital at Angkor Thom.
PRASAT TA PROM (BANTEAY CHHMAR)
Prasat Ta Prohm is the easiest of Banteay Chhmar's nine satellite temples to visit. This small ruined temple is topped by a well-preserved example of a Bayon-style four-faced Avalokiteshvara.  To get here, exit Banteay Chhmar by its south gate, cross the main road (NH56) and take the dirt track just to your right. After about 100m a walking trail veers off to the left and ends at the temple.
KRONG SEREI SAOPHOAN (SVAY SISOPHON)
Serei Saophoan (Khmer: សិរីសោភ័ណ, Sĕri Saôphoăn [serəj saopʰɔən]; lit. 'Beautiful Freedom') is the capital and largest city of
the Banteay Meanchey Province and the fourth most populous city in Cambodia. The city separates Cambodia's National Highway 5 and National Highway 6. Its administrative name is "Serei Sophon" as used by the government. The more commonly used name Sisophon is derived from the Thai pronunciation Si Sophon when it was under the Thai rule. Another nickname "Svay" is used mainly by truck drivers, train drivers and workers transporting goods. The origin of the word "Svay" is unknown. Its population is 61,482 in the 1998 census, changing little to 61,631 in the 2008 census having been overtaken by Poipet in size. About forty minutes from Sisophon there is a Khmer temple ruin called Banteay Chmar.
ANG TRAPEANG THMA (PHNOM SROK)
Ang Trapeang Thma (Khmer: អាងត្រពាំងថ្ម [ʔaːŋ trɑːpeaŋ tʰmɑː]) is a 129.06 km2 (49.83 sq mi) protected forest in northwestern Cambodia that was established in 1999. The
reserve was set aside to protect the rare eastern sarus crane (Grus antigone sharpii). Prior to the discovery of the crane at Trapeang Thma, there were thought to be fewer than 1,000 of the birds left alive in the world The crane sanctuary is located in north western Cambodia, not far from the border with Thailand. The entire 10,000 hectares of the protected area is contained within Phnom Srok District of Banteay Meanchey Province. Phnom Srok district shares a border with Siem Reap and Oddar Meanchey Provinces. Reading from the north clockwise, Phnom
Srok borders with Banteay Ampil and Chong Kal districts of Oddar Meanchey province to the north. The eastern border of the district is shared with Srei Snam and Kralanh districts of Siem Reap province. To the south the district shares a border with Preah Net Preah District of Banteay Meanchey. The western border of the district joins with Svay Chek and Thma Puok districts also of Banteay Meanchey. The sanctuary can be accessed by road from Sisophon (70 km) or Siem Reap (city) (90 km) via National Highway 6 initially then via smaller unsealed district roads to Ang Trapeang Thma.
PHNOM BAK and PHNOM CHANHCHANG
Phnom Bak And Phnom Chanhchang or it's often called Bak Mountain And Chanhchang Mountain is located in Serey Sophorn District, Banteay Meanchey province and far about ~4km away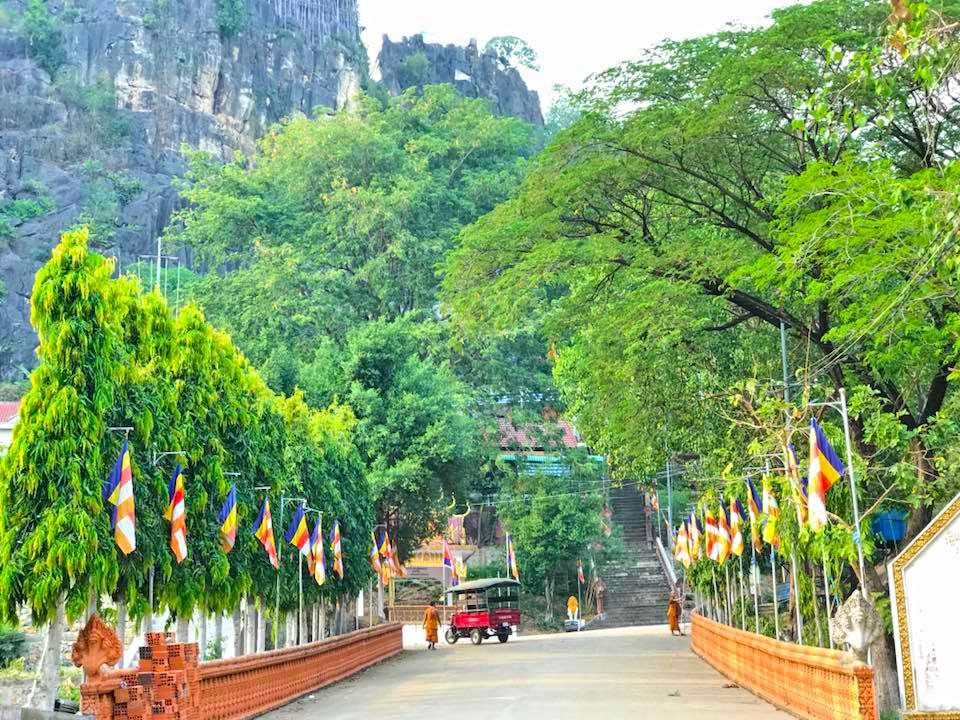 from Sisophon Circle. Phnom Bak And Phnom Chanhchang is in the category of the Mountain, Cultural area. Things to do, as well as the attractions of Phnom Bak And Phnom Chanhchang for tourists such as Seeing mountain view, Visiting pagoda, Researching history and more. For the trip to the location of Phnom Bak And Phnom Chanhchang, it is easy because it is not necessary to walk and cross the river or take a boat. For parking, tourists can park directly at the location. For a relaxing seating area, Phnom Bak And Phnom Chanhchang is not yet set up a seating area for tourists. Besides Phnom Bak And Phnom Chanhchang has no food ordering or food station, canteen, and restaurant. For accommodation, Phnom Bak And Phnom Chanhchang is not available yet such as bungalow, guesthouse, and hotel. Phnom Bak and Phnom Chenh Chiang are the natural and cultural resort locating at Se Rey Sa Phoan
District, along the National Road No 5, about 5kilometers west of Banteay Meanchey provincial town. The two mountains are near one another. The vertical faces of the mountains a like a wall. At the flank, there is a place for visitors to relax. At the foot of the mountain is a large well, 10 squar meters and 12 meters deep. Some stone statues are sculptured there. There are also a number of vendors selling stone sculptures.